Knitting to regain well-being
There are many reasons for doing knitting, or knitting, at home, in waiting rooms, on public transport: an activity – or perhaps an art – that allows you to leave stress and anxiety out of your routine.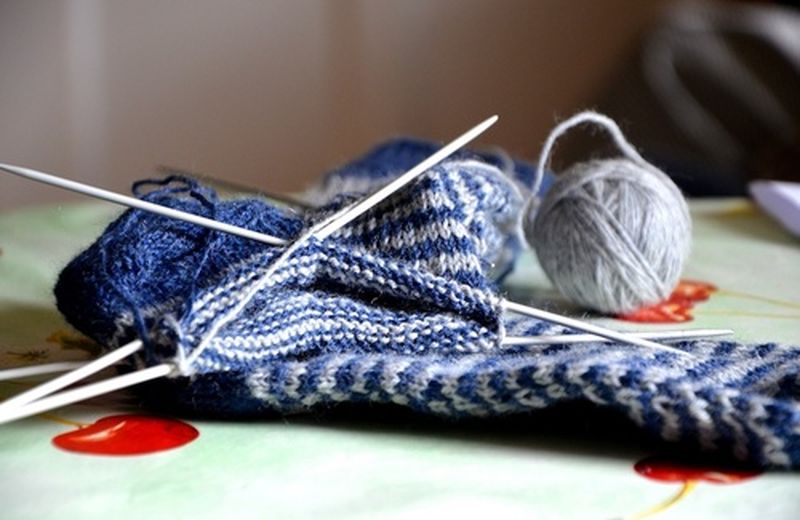 An activity suitable for everyone. A way to be industrious and relax at the same time. A set of techniques to be rediscovered and cultivated. Knitting , producing knitting as an art form , is a trend that fascinates and involves more and more people around the world, regardless of gender and age. There are many reasons for approaching knitting needles and balls of yarn, and for creating small woolen projects everywhere in your free time. First of all, the opportunity to leave stress and anxiety out of the work basket.
Knitting: beneficial effects
The Knit for Peace charity recently promoted research to demonstrate the countless benefits of knitting on psycho-physical health. According to the analysis, conducted among over 1000 enthusiasts, knitting is able to:
reduce anxiety and 

depression

 ;

decrease pressure

 ;

slow down the symptoms of dementia;

distract from chronic diseases;

increase the sense of well-being;

foster the 

ability to concentrate

 ;

reduce the sense of loneliness;

increase self-esteem and a sense of belonging to a community.
All these advantages add up to the great sense of satisfaction derived from creating something out of nothing with your own hands , and make it possible to spread spaces, opportunities for learning, comparison and exchange on knitting.
Sites and platforms: everything for knitting lovers
Knitting is a universe to be discovered. For the novice curious, just type the hashtag #knitting on the major social networks to realize the abundance of content on the topic, directly proportional to the interest it arouses. 
Here are some reference sites, which constitute a minimum, but representative part of the offer dedicated to knitting lovers:
A paradise for lovers of the genre. Here you can buy wool, other yarns, knitting needles, but also bags and clothing. The beginner kits are useful, with everything you need to get started.
Also in this case, it is possible to find kits for all levels, tools, balls, wool, cotton. There are also several tutorials available to test yourself.
Site, similar to the previous ones, where you can find everything you need for crochet and knitting . Part of the portal is dedicated to tutorials and workshops on knitting.
Learn to knit
There are many opportunities to learn for those who cannot draw on the manual knowledge of grandmothers, mothers or experts in knitting, in their family or among their knowledge.
In addition to offering models and advice on the best equipment to start with, the sites mentioned above provide video-tutorials that are useful for making the first objects and accessories.
They are not, of course, the only ones. The Organized Creativity portal , for example, has a section dedicated to the "Knitting School" . These are online video lessons , free and easy to understand, which deal with various procedures : from the basics to start the knits to alternative techniques, from different types of stitches to the creation of shirts or socks from scratch.
Another huge reservoir to draw on are the courses and tutorials on YouTube : a very rich heritage of experiences, where you can find trained teachers and information on the content that most interest you. Lowest common denominator: the passion for knitting.
Knit cafe
The Knit cafes were born as meeting places for knitting lovers. Often organized in bars, haberdashery or specialized shops in the presence of experts, they invite customers to get to work with knitting needles and balls, having a chat over a good tea.
Alongside the physical places, online knit cafes and also soon spread : spaces on the web or on social networks to exchange experiences or opinions, find useful material, participate in online meetings on the subject.
The Makerist site , with its Facebook page Knitting Café , is a very active international point of reference for sharing new trends and their own creations.
However, there are many Italian companies available on the web that – online or in person – will be able to satisfy the curiosity and needs of enthusiasts.
Knitting: the events
Finally, there is no shortage of events aimed at the large audience of knitters. These are generally fairs dedicated to creativity, where hobbyists from all over Italy find inspiration and tools for their manual works.
In this 2020 marked by the pandemic, many of them have inevitably been postponed or canceled. For now, the appointment with "Il Mondo Creativo" , the do-it-yourself exhibition scheduled in Bologna on November 26-29, remains on the agenda. The fair includes an area dedicated to learning techniques and secrets related to knitting and crochet, while the calendar, still under construction, announces courses and demonstrations to create customized garments and accessories.
Therefore, there are countless opportunities to learn more about the ancient art of knitting. And to discover, directly from the experience of thousands of enthusiasts, the beneficial anti-stress effects that it brings with it.